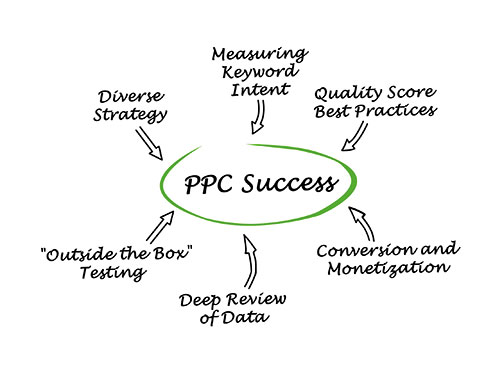 Pay-Per-Click (PPC) advertising is now offered by many of the main search engines and directories but it is Google AdWords, more commonly known as PPC, which is by far the most popular.
Google AdWords PPC advertising can be setup relatively quickly and is a great way to gain more visibility for keyword searches aimed at relevant traffic. But if the campaigns are not set up correctly, they will be inefficient and costly despite what Google tell you.
The great thing about Google AdWords and PPC campaigns is that unlike other forms of advertising you don't pay to place your advert, only when someone clicks on the link in your advert. This is why it is most important to make your campaigns and chosen keywords as relevant, focused and concise as possible.
With all paid advertising, you are looking for quality not quantity traffic
Google AdWords and other PPC (Pay-Per-Click) campaign management allow you to target specific regions, whether that be local or global, and provide a great deal of information to measure campaign performance. As you will only pay once someone clicks on your advert, it is essential that you send them to the correct landing page of your company website; and each page is focussed on selling a particular product or service.
The more focused and less generic your landing page, the higher your 'click to sale' success rate and ROI (Return on Investment)
Here is a list of 10 things you should consider when managing Google AdWords and other PPC campaigns to advertise you company products and services:
1. Create individual PPC campaigns for every product or service
2. Do not link PPC adverts to your Home Page
3. Edit your landing pages to suit your PPC campaigns
4. List specific keywords for each campaign
5. Mirror the keywords in your PPC campaign and your chosen website landing page to increase sales potential
6. Set a daily budget so as to manage your costs
7. Review your campaigns regularly, daily if possible
8. Use split testing in order to continually improve your adverts
9. Use 'Phrase' & 'Exact' rather than 'Broad' keywords
10. Bid to stay in the top 5 search results
For more free, friendly and impartial advice on setting up & managing effective Google AdWords and PPC campaigns, Contact Buzzin Media.